All Me: The Life and Times of Winfred Rembert
Winfred Rembert
Winfred Rembert, a 69 year-old African American, grew up in Cuthbert, a town in the Southwestern corner of Georgia. Rembert was given away at birth to a great aunt. He spent much of his childhood as a field worker beside his great aunt in the cotton and peanut fields. When he could attend school, he loved drawing but not much else. Attendance at a civil rights demonstration got him thrown in jail without charges or a trial. An escape over a year later resulted in a prison sentence, but only after Rembert had survived an attempted lynching. He fell in love with his future wife, and with leather as an art medium, while serving seven years on Georgia chain gangs. Life and eight children intervened after prison; it was not until 1995 that Rembert began to carve, tool and then dye pictures on leather, in his studio in the front room of his home in New Haven, Connecticut. Most of his colorful art depicts scenes and themes from African American life in segregated Cuthbert, GA and from the time he spent on those chain gangs. His work was exhibited at the Yale University Art Gallery in 2000 and a triptych about a lynching was acquired by Yale for their permanent collection. Rembert subsequently exhibited at various other venues. His first major catalogued one-man exhibition was presented in New York in 2010 by Adelson Galleries in association with Peter Tillou Works of Art. Rembert and his family still live in New Haven's inner city. In 2012, a traveling exhibition, a retrospective of Rembert's art, was curated by the Hudson River Museum, where it showed from February to May. It is currently on exhibition at the Greenville Art Museum in Greenville, South Carolina, where it will be through August 2012.
Vivian Ducat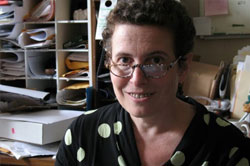 All Me: The Life and Times of Winfred Rembert is director Vivian Ducat's first feature-length documentary. A native New Yorker, Ducat has directed, produced and written more than 20 long-format documentaries for broadcast. She spent the first part of her career in London, working for the BBC, directing films for series including The Story of English, The Prize: The Epic Quest for Oil, Money, and Power, Assignment, ("Mr. Murakami Goes to Washington" and "Uncle Sam's Last Stand") and Locomotion. After returning to New York, Ducat produced programs for the WGBH series The Aids Quarterly with Peter Jennings, MacNeil-Lehrer Productions, the ABC News series The Century, and for the WGBH series, The American Experience ("Hawaii's Last Queen," narrated by Anna Deveare Smith) among other broadcast venues.
Recently, Ducat has also become involved in directing and producing interactive media and short films for touchscreen kiosks and digital exhibitions, for institutions including The Library of Congress, the National Park Service, the New-York Historical Society, the Museum of the City of New York, the Delaware Art Museum, Columbia University, The Museum at Eldridge Street and the Malcolm X and Dr. Betty Shabazz Memorial and Educational Center in upper Manhattan. Her 2011 short film, Stonefaced, about a Harlem-based architect, Robert Arthur King, who is obsessed with photographing gargoyles and other building sculpture in New York City, premiered at the Sarasota Film Festival in April 2012, and will screen in early August 2012 at the Martha's Vineyard African American Film Festival. The website for that film is www.stonefacedthemovie.com.
Ducat, who graduated Magna Cum Laude from Harvard, has a master's degree from Columbia University. She studied film directing at the Film Director's Training Course, an internal program of the BBC offered to promising young staff members. She lives in Manhattan with her husband, Ray Segal, and their two sons, Oscar and Hugo.

Mike Culyba, Editor
Michael got his start working in documentary film with Academy Award nominated director Jonathan Stack in New York, NY in 2001.
In 2006, Michael was co-editor on two-time Oscar Award winning director Barbara Kopple's documentary Dixie Chicks: Shut Up & Sing (Toronto International Film Festival 2006). Since then, his editing credits include Doubletime (SXSW & Tribeca Film Festival 2007), Sync or Swim (Silverdocs 2008), Barbara Kopple's Woodstock: Now & Then (Woodstock Film Festival 2010), and The Edge of Dreaming (IDFA 2010). Michael's latest film, Urbanized, directed by Gary Hustwit, recently premiered at the 2011 Toronto International Film Festival.
All Me: The Life & Times of Winfred Rembert (Hamptons International Film Festival 2011) is Michael's first feature-length collaboration with director/producer Vivian Ducat. Michael lives happily together with wife Shelby and their 6-month-old son, Sidney, in Brooklyn, NY.
Back to the top
David Gaynes, Camera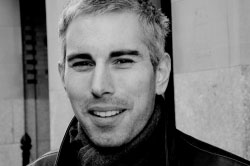 David Gaynes is a creative storyteller and unique voice in the world of independent documentary film. He turned to cinema after getting fired from his first job as a local television newscaster. He does not miss chasing ambulances.
Saving Hubble, his latest film, is the quirky, political story of the people of America's fight to save the Hubble Space Telescope from an untimely death.
Keeper of the Kohn, his first feature, won Best Documentary at the 2005 Vail Film Festival and won the Audience Award at the 2005 Palm Beach Film Festival. Keeper "re-premiered" on the web in partnership Snag Films in 2008 and was featured on PBS Stations across the country.
More Than Skin Deep, a documentary short, won Best Documentary at the 2002 US Super 8/Digital Video Film Festival, and was an official selection for the AIVF Pitch to PBS Competition. It was distributed to PBS Stations nationally through NETA and has been viewed widely in educational venues, and in David's parents' living room.
As an active and versatile cinematographer, David is routinely enlisted to shoot challenging material for a wide variety of film and television producers. Recent television credits include work for Food Network's "Unwrapped" and "Food Challenge," TLC's "Cake Boss" and HGTV's "Holiday Windows Special." David was the cinematographer of award-winning independent documentaries College Boys Live, Release: The Jack Ryan Story and the forthcoming Men of the Cloth.
David grew up in Weston, CT, studied at Hamilton College and currently lives in New York City.
Back to the top
Back to the top
Mark Urman, Producer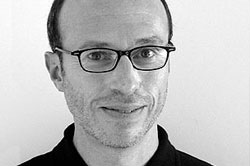 Veteran film industry executive Mark Urman has had an extensive career in the marketing and distribution of some of the most successful and acclaimed independent films of the last two decades. As the head of the US division of the international public relations firm, DDA in the 1990's, he orchestrated the campaigns for such films as The Cook, The Thief, His Wife, and Her Lover, Like Water For Chocolate, The Crying Game, Shine, and Secrets and Lies, and personally represented such filmmakers as Bernardo Bertolucci, Paul Schrader, and Roman Polanski. As co-president of Lionsgate Releasing, from 1998-2001, he oversaw the release of such hits as American Psycho, The Red Violin, Affliction, Gods and Monsters, and Dogma. In 2001, he co-founded and ran the theatrical division of THINKfilm, where he acquired and distributed such films as Spellbound, The Aristocrats, Half Nelson, and Before The Devil Knows You're Dead.
While at THINKFilm, Urman success in the documentary arena was highlighted by seven "Best Documentary" Academy Award nominations in seven years, and the company won two Oscars in that category for Born Into Brothels and Taxi To The Darkside. Urman served as executive producer on a number of documentary features including the Oscar-nominated Murderball and War Dance. He also optioned and served as executive producer of Monster's Ball, which won Halle Berry a Best Actress Academy Award. More recently, he executive produced Ultrasuede: In Search of Halston by Whitney Sudler-Smith.
Back to the top
Ray Segal, Co-producer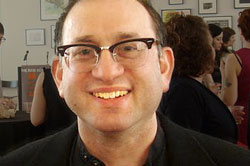 Ray Segal, co-producer of "All Me…" has been a producer and researcher on documentary films, factual television programs and educational media for more than 20 years. His credits include Ric Burns award winning series "New York: A Documentary", the PBS series "History Detectives", and interstitial programming for the in-house production unit of A&E "Biography". This is the second film Mr. Segal has made with Vivian Ducat, his wife of twenty years. Their first film together, "Hawaii's Last Queen", aired as part of the long running PBS series, The American Experience.
Back to the top