News
New Articles about the film
Article by by Sabine Heinlein from hyperallergic.com, "A Black Outsider Artist in a White Art World"
Article by Paul Laster from Flavorwire.com "10 Contemporary Outsider Artists Everyone Should Know"
Article by James Mannen, from trustmovies.blogspot.com, "The QUEENS WORLD FILM FESTIVAL 2013 It's back -- and (much) bigger than ever: Elliot Bassman, Winfred Rembert -- & more!"
New York Times Article by Roberta Smith, on the Outsider Art Fair Here.
Busy Months
January-February have been busy time for Winfred and the film. Winfred's art work is on exhibit at the Flint Institute of Art (Jan 27-Mar 17) , Adelson Galleries Boston (Feb 1-Mar 31). His work was exhibited at the Kinz + Tillou Fine Art at the Outsider Art Fair 2013 (Jan 31-Feb 3), then there were six screenings at various venues, the National Arts Club, Goddard Riverside Community Center, the Brattle Theater, the Arlington Church of God, and Riverside Church! The next screening will be at the Queens International Film Festival on March 9th. Please refer to our screeings page for details. Thank you to all the incredible responses on Facebook after the broadcasts from America Reframed!
We now have an educational distributor! Anyone who knows interested schools and libraries can order the film by clicking here to go to filmaker.com. We are very happy to finally be available to the educational world!
DVDs are also available to puchase, please contact us at info@allmethemovie.com
The 2012 Heartland Film Festival article on Film Entertainment Magazine by Madelyn Ritrosky.
More pictures of Winfred's work is now on Pinterest.
We are honored to be the recipient of awards from Arlington International Film Festival, Best of Festival award and the Heartland Film Festival.
We are honored to be the recipient of a 2012 CINE Golden Eagle Award!
A review in the June 2012 edition of British publication, The Art Newspaper:
The Movie is now available on Itunes, Amazon.com and Xbox.
Winfred Rembert's artwork depicting the harrowing details of life in the segregated South is on view at the Hudson River Museum through May 6. Slide show link here.
A jury of The Alliance of Women Film Journalists which included AWFJ members Cynthia Fuchs (Popmatters.com), Jennifer Merin (Documentaries.About.com and Womens eNews), Erin Trahan (The Independent), Susan Wloszczyna (USA Today) and Jeanne Wolf (JeanneWolfsHollywood.com and PARADE Magazine) offered a prize to ALL ME: THE LIFE AND TIMES OF WINFRED REMBERT. The film was awarded "Special Mention for Synthesis of Form and Theme." It was presented at the EDA award ceremony during the Salem Film Fest. "This is something very important in documentary filmmaking, so we couldn't pass up the opportunity to single out this film," AWFJ President Jennifer Merin said during her presentation of the award on March 3, 2012.
The film is also honored for "the Salem Film Fest Audience Award" with a very special one of a kind Audience Award trophy created by Salem artist Mic Augustine.
"Amazing Grace, the first major museum exhibition of Rembert's work, incorporates historical photographs of places in Georgia, a documentary of his life by noted filmmaker Vivian Ducat, and gospel music both recorded and performed by Rembert in the Hudson River Museum galleries on several dates. Music, pivotal in Rembert's life and art, and has contributed to his success as a mentor to young people."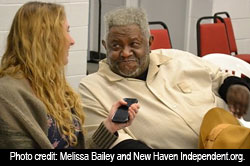 This article includes a video and new pictures of Winfred's visits to Harlem and the Hudson River Museum. 'Rembert began the week in Washington, D.C., where he spoke at a screening in the Library of Congress and tried, unsuccessfully, to deliver a hand-carved handbag to Michelle Obama. He has upcoming appearances planned in Los Angeles; Atlanta; Salem, Mass.; and Montgomery, Alabama."

"The creative diligence of Vivian Ducat and Winfred Rembert are a testament to the numerous cultural contributions made in this great country. I am proud that so many of my constituents are artistically gifted and are dedicated to teaching future generations about a time in our history that we're working so hard to transcend,' said Rangel."
"And yet All Me is anything but a bitter downer, a history lesson that goes down like castor oil. Rembert himself is such an individual, genial, un-posing, shambling embodiment of faith, resilience, and realized potential that his triumph in the art world--the sales, the exhibitions, the laudatories--is bracing and sunlit despite the dark nights and days. Along with the depictions of the South imprinted on his retina is a portrait of President Obama so powerful and rallying that the Obama team ought to buy the rights and make it their campaign avatar."
SnagFilms Acquires Worldwide Rights in All Media For Acclaimed Documentary "All Me: The Life and Times of Winfred Rembert"